Home (layout/webrings/links) | Fosterville Times Press | History in Pictures


The PB&JRR:
Live Steam "Ruby"
October 1, 1893*

The Gold Coast Station also had a good price on the "Ruby", a beginners live steam g-scale locomotive. We got it for my Dad, so the "Ruby" is only a visitor on the PB&JRR line. It now lives on Dad's garden railroad in Prairie Village, Kansas. This locomotive is really quite easy to get up and running, though it did prove quite a challenge to get it adjusted so that we didn't have to chase it around the yard! In the long run, it should be converted to remote control (which seems fairly doable given the easy access and "RC-readiness" of the few controls).

Click on any image for a larger version. Use your BACK button to return to this page.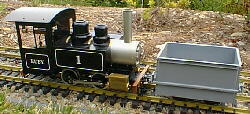 [*For actual year, add 107.]

[PB&JRR home page]