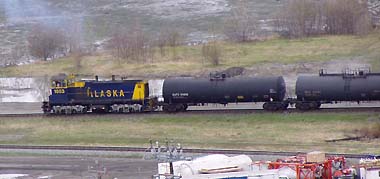 This switcher was observed nearly every evening shoving tank cars from the port to the ARR yard.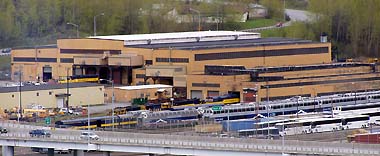 The ARR has a large facility in Anchorage, including this enginehouse and maintenance building. The bulk of these pictures were taken from a deck on the 14th floor of the downtown Hilton.



A close-up on a McKinley Explorer car.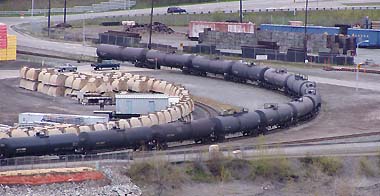 This is a typical string of tanker cars moved from the oil tanks at the port to the railroad yard.




Pulling out passenger cars to prepare for summer activity.



The Anchorage port facility. The first day we were there, we watched the ship dock with the assistance of two tugboats.

Most of these port and yard pictures were taken between 9:00pm and 11:00pm. The days are much longer...



While on a business trip to Anchorage, Alaska, two Pacific Bill & Jamie Railroad (PB&JRR) officials were afforded the opportunity to observe the Alaska Railroad (ARR) in action. The above picture was taken along the Tony Knowles Coastal Trail which runs south from downtown about 9 miles to Kincaid Park on the other side of the airport.



The passenger station was just down the hill from the hotel. The railroad was getting ready for summer passenger service which began May 15, 2004 (the day we left!).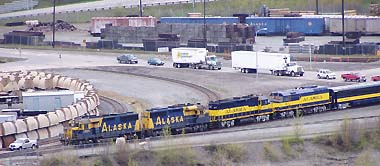 Four locos pull some passenger cars from the yard. Note the white pickup truck just ahead of the train. Several such vehicles were used to run brakemen around the yard to throw switches. Note the two ARR boxcars (blue) in the lineup in the background.




A typical team of locos moving cars around the yard.



Much of the yard lies in the distance from left-center in the picture to right center.