Home (layout/webrings/links) | Fosterville Times Press | History in Pictures


The PB&JRR:
The Triple T is open!
November 24, 1893*

The Triple T Mining Company is open for business, as is the Jail, a Wells Fargo office, and the offices of the PB&JRR! Most of the buildings pictured on this page came from K's G Scale Buildings for Garden Railways. The other two, the general store (tallest building on the right) and the small railroad depot building (to the right along the tracks), were built from kit by the Bill in Pacific Bill and Jamie Railroad.

Click on any image for a larger version. Use your BACK button to return to this page.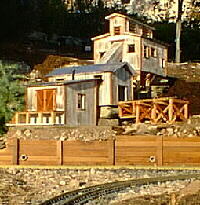 [*For actual year, add 107.]

[PB&JRR home page]