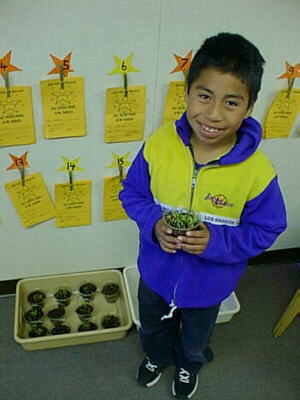 Seven days ago, on March 7, 2002, the class planted their sugar beet seeds. Pictured at right on March 14, 2002 a youngster holds some sprouts in his hand and the rest of the class' plants are on the floor behind him.

Pictured below is the 2003 crop being watered on April 30, 2003.

Total growing time to a full size sugar beet is 170 days, and individual beets can get to be 30 pounds! We should have started these right away last Fall...

The Union Sugar mill was a major piece of Santa Maria history, spanning nearly 100 years.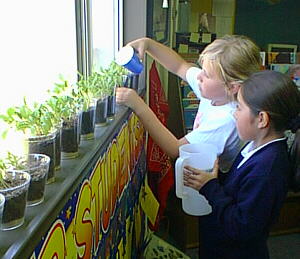 [Home] [Synopsis] [Train Layout (HO)] [Schedule: 2002, 2003]
[For Teachers] [What's New] [Site Overview]