The Santa Maria Valley Railroad (SMVRR) is a privately owned shortline railroad right here in Santa Maria. The railroad was gracious enough to grant the class a tour of their downtown enginehouse and yard. At left below, two SMVRR crew members discuss engine maintenance just inside the enginehouse. They are in the process of replacing the wheels on one of the yellow GE 70-ton locomotives. At right, many of the doors are open for inspection on No. 1801, a lownose 1600hp GP9, exposing much of the 16-cylinder diesel motor.




No. 80, a GE 70-ton switcher, was sitting just outside the enginehouse. The students got to tour through the locomotive, and a few lucky ones sounded the horn!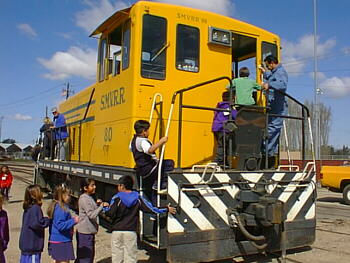 At left below, the class poses in front of a tank car loaded with white glue - like Elmer's Glue! The glue is used in the fields to control dust. To the left and behind the class and the tank car is the old depot building (which is modeled on the class HO layout). Below, the student sitting above "SMVRR 80" with his arm resting out the window looks like he was born to be an engineer!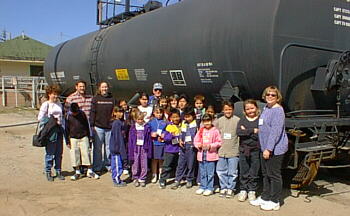 For more information and pictures about the Santa Maria Valley Railroad, visit the "Railroads: Today" section of the Santa Maria Valley Railway Historical Museum.

[Home] [Synopsis] [Train Layout (HO)] [Schedule: 2002, 2003]
[For Teachers] [What's New] [Site Overview]